Morel Mushroom Tarts & Out of the Woods Cocktail
Michele Ginest and Jennifer Tyldesley are not just wizards in the kitchen and at the bartop. They've also written a couple of cocktail and cookbooks together that we highly recommend adding to your bookshelf. If you are the proud owner of the book Cold Spell: Cocktails and Savouries for a Northern Winter, then you know Michele and Jennifer have no shortage of delicious bevy, snack and treat ideas. Together, they've perfected some amazing recipes using ingredients from the Yukon. And thankfully, they also believe sharing is caring. So without further ado, we'll let them take it from here so you can get shaking and baking (shaking optional). Photo: Archbould Photography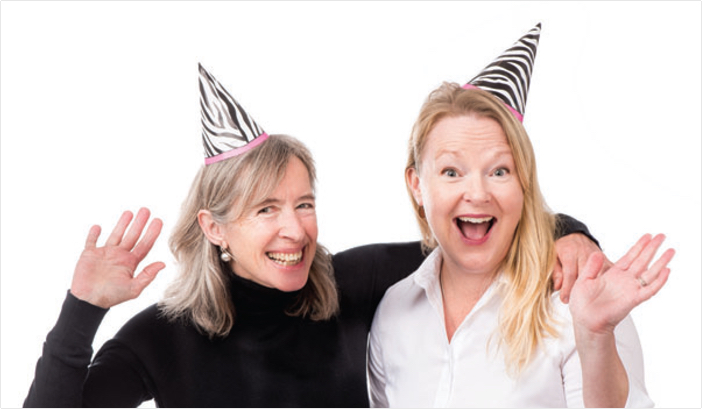 The Recipes

The Ingredients
Morel Mushroom Tarts
"Morel and cremini mushrooms give these flaky tarts a wild umami flavour, beautifully met by the earthy quality of Free Pour Jenny's Out of the Woods cocktail."
– Michele Genest
Cream cheese pastry ingredients:
– 2 cups all-purpose flour
– 1 tsp kosher salt
– 4 oz cold cream cheese (full fat), diced
– 4 oz cold unsalted butter, diced
– 1/3 cup cold 10% cream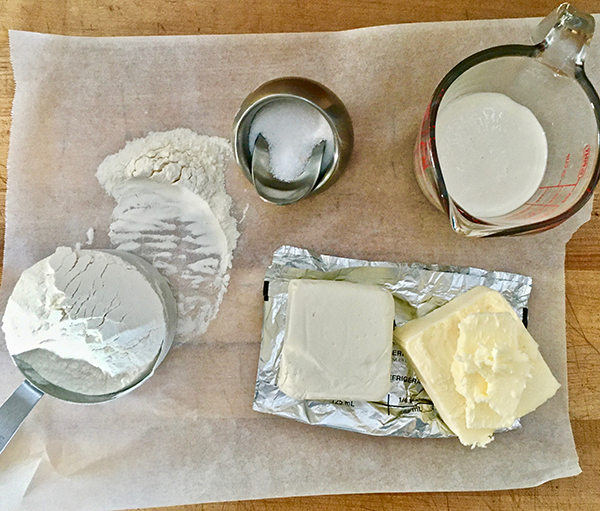 How it's done:
Pour flour and salt into the bowl of a food processer. Pulse to combine. Add cream cheese and pulse until dime-sized pieces remain. Add butter and pulse again until pea-sized pieces of butter remain. Pour cream through the spout, pulsing, until the dough clumps together when you pinch it.
Turn dough onto a lightly floured counter and press together into a disc. Cut into four and press each quarter into a disc. Wrap and refrigerate for one hour.
Makes enough for two batches of mushroom tarts.
Filling ingredients:
– ½ oz (about ½ cup) dried morel mushrooms
– 2 cups diced Cremini mushrooms
– 1 Tbsp butter
– 1 Tbsp olive oil
– 3 cloves garlic, minced
– 1 tsp soya sauce
– ½ cup morel soaking liquid
– 1 large egg, beaten
– 1 green onion, halved and minced
– 1 Tbsp 35% cream
– ½ cup plus 2 Tbsp freshly grated Parmesan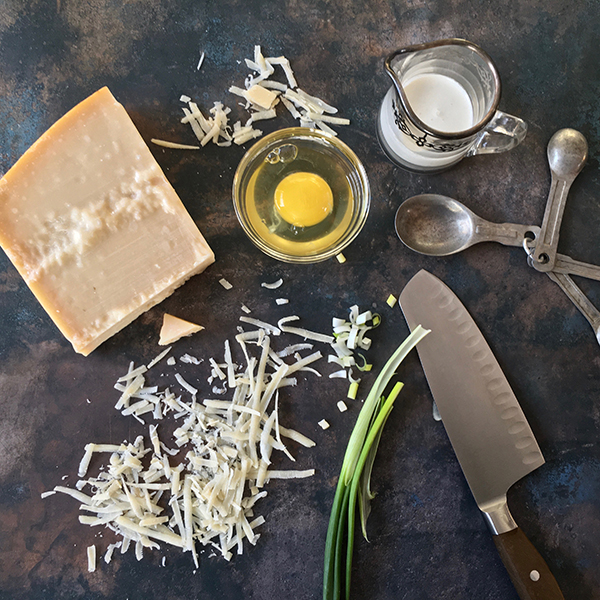 How it's done:
Place morels in a small bowl and cover with boiling water. Allow to rehydrate for 30 minutes. Remove morels from soaking liquid, squeezing to extract all the liquid, reserving liquids. Chop morels lengthwise then crosswise into ½-inch pieces.
Heat oil and butter in a medium-sized frying pan over medium heat. When fat is sizzling, add Cremini mushrooms and sauté for 5 minutes, or until starting to brown. Add morels and garlic and sauté for another 2 minutes. Add ½ cup of soaking liquid (reserve the rest for sauce or soup) and simmer until the liquid has evaporated.
Remove mushrooms from heat and transfer to a bowl to cool. Once cool, stir in remaining ingredients, reserving 2 Tbsp Parmesan for sprinkling over top.
On a floured countertop, roll out one disc of pastry to a thickness of 3/8-inch. Cut into 2 1/4-inch rounds with a biscuit cutter and place into mini tart shells, tamping down gently with your fingers. Repeat until you have used 2 discs of pastry and have filled 24 mini tart moulds. (There may be some pastry scraps left over. Refrigerate and make empanadas with any leftover filling!)
Place a heaping teaspoon of filling in each tart shell. Drop a pinch of Parmesan on each one.
Refrigerate tarts while oven is preheating to 425ºF. Place racks on the bottom and middle of the oven.
When oven is ready, bake tarts on the bottom rack for 7 minutes. Move tarts to the middle rack, turn heat down to 375ºF and bake for another 13 to 15 minutes, until filling is bubbling and pastry is golden brown.
Remove from oven. Allow to cool for a couple of minutes, then remove tarts from tin.
Serve at once.
Makes 24 tarts, enough appetizers for four to six people.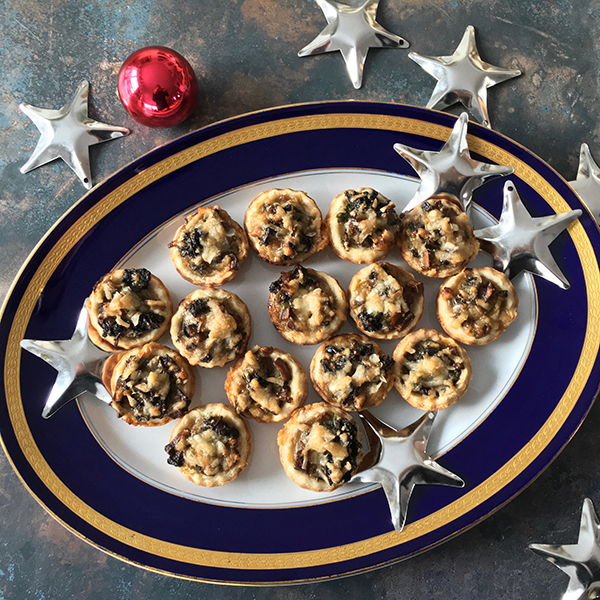 The Ingredients
Out of the Woods
Ingredients:
– 2 oz Woods Spirit Co Amaro
– 1 oz Yukon Brewing Concepts New Growth Artisan Gin
– 1/2 oz Free Pour Jenny's The Judge's Tonic Syrup
– 2 oz soda water
– 1 spruce tip or sprig of wild sage (fresh or dried)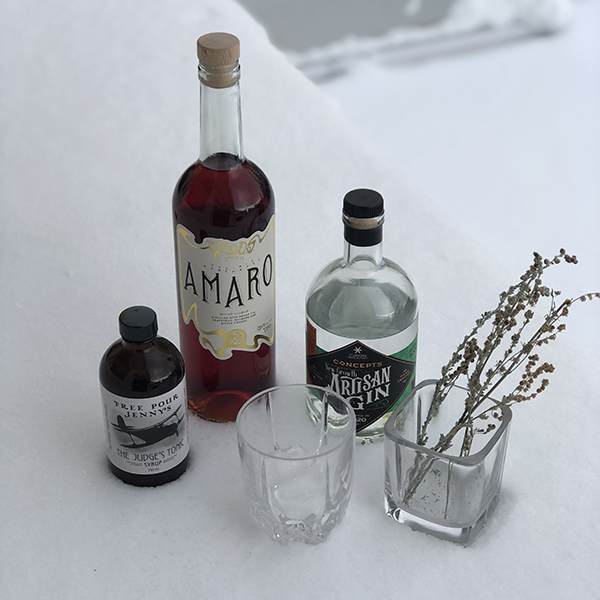 How it's done:
Chill all ingredients. Combine liquid ingredients in an Old Fashioned glass filled with ice, and stir gently to mix. Garnish as desired.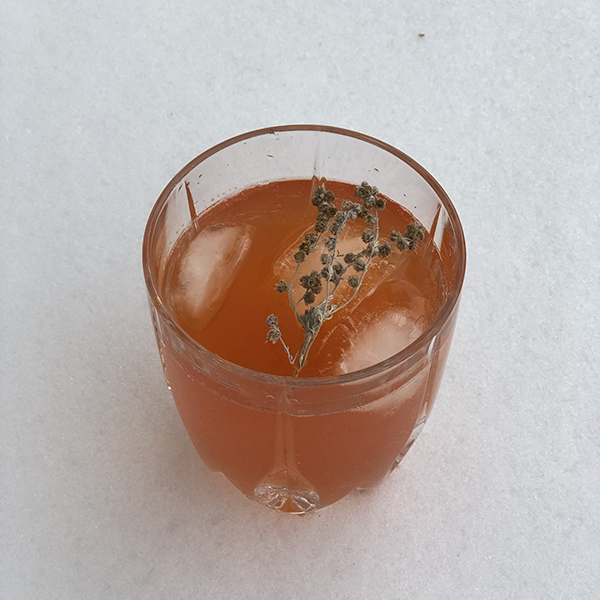 Check out Michele and Jennifer's book Cold Spell for more delicious recipes!