Activities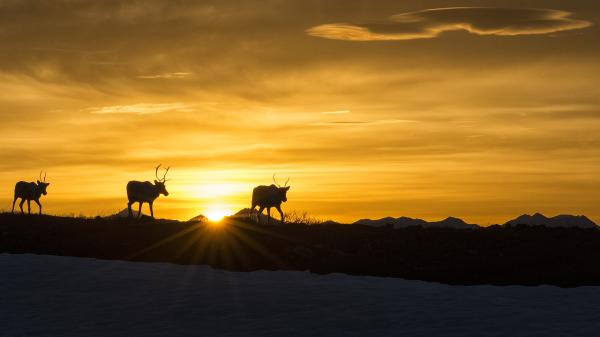 Way, way off the beaten path
If secluded, isolated and pristine sounds perfect, Vuntut National Park might be the place for you. This remote region is bordered by two larger protected areas: Ivvavik National Park to the north and Alaska's Arctic National Wildlife Refuge to the west.
Just getting there is an adventure, but the few who do visit are treated to unparalleled experiences and an extra-big dose of summer's midnight sun. The park itself is an expansive landscape without any facilities or official trails and is a dream for self-sufficient hikers prepared for next-level getting away from it all. Most won't see anyone other than their own group, so be sure not to invite that one know-it-all friend of a friend (you know which one I'm talking about).
The untamed landscape is fittingly dominated by wildlife, and for them, resilience and adaptability is the name of the game. Grizzlies, black bears, wolverine and wolves are some of the predators that roam the land, while eagles and falcons hunt from the sky. Muskox and caribou have survived here since the ice age. The migrating Porcupine Caribou Herd follows ancient trails formed over millennia. In the southern portion of the park, Old Crow Flats is a destination for swans, geese and numerous other waterfowl, but despite the name, no crows. With more than 2,000 lakes and ponds, the wetlands of Old Crow Flats is recognized as one of the most important summer bird habitats in North America. For the birds and wildlife, Vuntut National Park is a rugged, wild haven.
Vuntut National Park is carefully managed through a partnership between the Vuntut Gwitchin First Nation and Parks Canada. Visiting requires permits and extensive planning well ahead of time. Access to the park most often begins from the tiny village of Old Crow, which is only accessible by boat or aircraft. Visitors receive a warm welcome, and from there the effort required to reach Vuntut National Park makes it more exclusive than even the hottest nightclub. No lineups, no bouncers, no dance floor, and still way more wild.