Activities
Arts - Silver Trail Region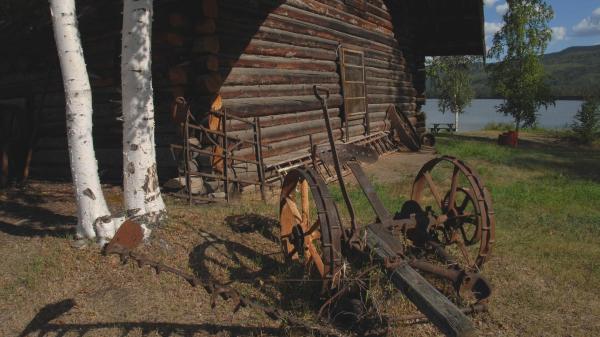 Twists and surprises
In this region, keep an eye out for the treasures missed by those who stick to Yukon's southern routes.
The Silver Trail starts where the North Klondike Highway meets the Stewart River, and follows along the riverbank dotted with moose, marmots and pikas. Stewart Crossing, the gateway to the Silver Trail, is more than a beautiful spot to stretch your legs. Find a surprise collection of wooden burls and small carvings in the gas station. The tourist information booth has brochures and walking trail guides.
The Village of Mayo and the surrounding region are in the Traditional Territory of the First Nation of Na-Cho Nyäk Dun. The area is home to many artisans, as you will see at Binet House. The restored heritage building's museum collection includes early twentieth-century photographs and geological displays. Binet House also showcases beaded and fur clothing made by local First Nation Citizens. The gift shop includes traditional beadwork alongside colourful fibre art and jewelry.
Each July 1st, artists and musicians gather for the Mayo Arts Festival, a celebration of Stewart Valley creativity. Take a workshop in felting, moose hair tufting or quillwork.
When you're ready for spacious hillsides, head up to Keno. On a walking tour (free maps are available at the Keno City Mining Museum) you will see historical buildings still intact and in place, like Geordie Dobson's Beer Bottle House. If it's raining, the tiny one-room library door is always unlocked and you can cozy up for a read. Each August, the Keno City Music Festival is a free event for everyone to enjoy.
The Keno City Mining Museum occupies Jackson Hall, Keno's old community centre. As you explore displays about mining life and a tight-knit community, take note of the collection of exquisite butterflies found only around Keno. The gift shop carries works by artists captivated by the area.
Keno's stories continue to inspire Yukon artists. Folk singer Kim Barlow created musical portraits of Keno's citizens in her album lucky burden, while filmmaker Andrew Connors has made several films mixing contemporary images with archival footage of the boomtown years.
And if you're in need of some souvenir inspiration, browse through listings of over 120 featured artists.