Activities
Hiking - Southern Lakes Region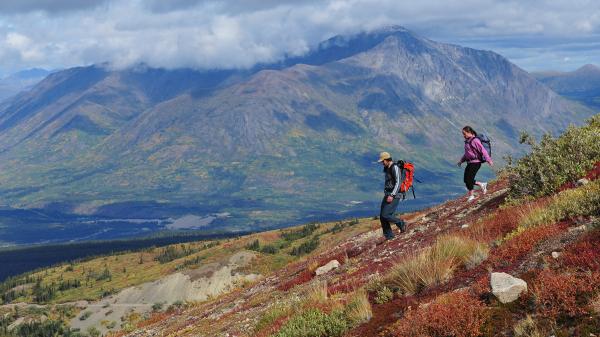 More than the many lakes
Hiking in the Southern Lakes area is unlike anything else—walk on trails teeming with history, see wildlife in their pristine natural habitat and hike up to top-of-the-world panoramas. There are dozens of hikes to choose from. Here are just a few.
For a region loaded with adventurous routes, you can't beat the area reaching from Carcross, across the ravine from the world famous White Pass, and all the way to the start of the Chilkoot Trail in Alaska. Walk through history on the Sam McGee Trail, originally an access to a tramway built over a century ago by the very Sam McGee in the popular Robert Service poem. Watch for remnants of the tramway as you hike up to the spectacular views of Windy Arm nestled in amongst the surrounding mountains. Across Bennett Lake from Carcross, Montana Mountain invites hikers up to the highest peak around, and bikers down the mountain's many popular multi-use trails. The view from the top is breathtaking in all directions. With the chance to see wildlife and the guarantee of incredible views, you'll definitely want to keep your camera handy.
While the Carcross area could keep you busy, there's great hiking throughout the Southern Lakes area. The White Mountain hike just a few kilometres down Atlin Road is a quick, steep trail up to a limestone plateau. This hike gives amazing views of Little Atlin Lake and the surrounding landscape. The area is mountain goat country, so keep an eye out and you may spot these amazingly agile animals. If you are lucky enough to climb with the goats, it'll make for one brag-worthy story for your friends back home, by the way. Note that it's important to avoid this area from mid-May to mid-June during kidding season when the baby goats are born. It's called kidding season, but trust us—mama mountain goats are no joke.
For easy-going walks without the elevation, the trails at Tagish and Marsh Lake are a chance to get out into nature and admire the abundant flora and fauna. Watch and listen for the many birds who live in or migrate through this area, as well as local wildlife like squirrels and rabbits and possibly larger mammals like deer and moose.
For general tips on hiking, wildlife viewing and "Leave No Trace" guidelines, stop by a Visitor Information Centre or pick up the Whitehorse & Area Hikes & Bikes book by the Yukon Conservation Society. For maps, photos and helpful info on the many hiking trails in the Carcross and White Pass area, visit yukonhiking.ca.