Activities
Iconic Drives: Dempster Highway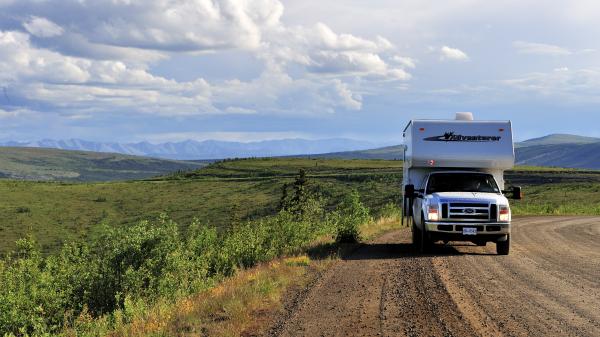 Adventure to the Arctic Circle
The Dempster Highway is unpaved and passes right through breathtaking wilderness and wildlife habitat. For summer road trippers with an adventurous streak, the Dempster is a perfect fit—but just keep in mind that it has very limited services.
Stop at the Tombstone Territorial Park Interpretive Centre for a cup of Mountain Wild tea, browse the exhibits and chat with the staff about current road conditions and wildlife activity. The Beaver Pond Interpretive Trail from the parking lot is a one-kilometre wheelchair-accessible path that highlights various natural features and the cultural significance of the land. More trails lead from the campground nearby.
Tombstone Territorial Park has amazing backcountry hiking, but you don't need to leave your vehicle to enjoy the amazing landscape. The highway passes through sprawling valleys covered in colourful shrubs and lichen, with towering peaks in the distance. Watch for grizzlies, wolves, moose and caribou near the road or roaming the tundra.
The road stop at Eagle Plains is the only chance for gas and other supplies and services. The proof-you-did-it photo opp at the Arctic Circle sign is a few minutes farther up the highway. Continuing past the Arctic Circle takes you into the Northwest Territories, across two rivers on ferries, and up to the community of Inuvik. The farther north you go, the longer the days. For maximum midnight sun exposure, take the Inuvik Tuktoyaktuk Highway all the way to the shore of the Beaufort Sea.