Activities
Sightseeing - Dawson City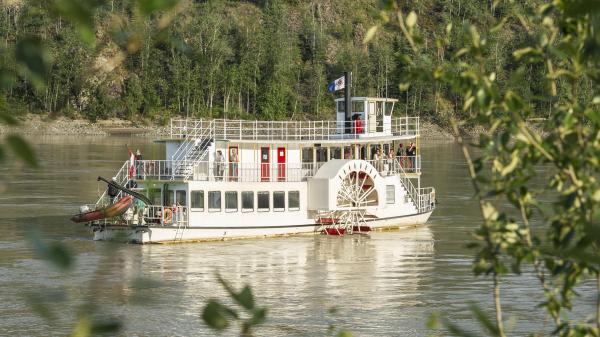 Keep your camera handy
The fantastic sightseeing in the Klondike Region begins before you even reach Dawson City. Enjoy the scenery as you drive through the Klondike Valley, and see the astonishing mining tailing piles left behind by the mechanized dredges. Once in town, guides in gold rush garb lead walking tours along the boardwalks. Visit museums, the cabins of Robert Service and Jack London, the Dänojà Zho Cultural Centre, and the S.S. Keno National Historic Site. While many heritage buildings are carefully preserved or restored, there are also plenty that are dramatically, and a bit comically, tilted by permafrost—like the quirky "kissing buildings".
The dozens of gold rush attractions are enough to keep you busy, but just remember that the region also has beautiful nature to experience. Explore the many hiking paths, or rent a mountain bike and take on the exciting trails on the Midnight Dome. For a less adrenalin-spiking way to get the same panoramic shot, drive up to this iconic lookout for the breathtaking view of the river and the surrounding landscape.
Those who'd rather be right on the river can take the George Black Ferry across to West Dawson and on to the Top of the World Highway. Or walk up the gangplank to board the Klondike Spirit for a cruise down the river with a big helping of gold rush tales. Tour operators take visitors in small boats onto the river to watch for wildlife, drop a fishing line in the water and drift past historic sites like Moosehide Village and the paddlewheel graveyard.
Dawson City's tour guides have lots of local knowledge, know the best spots and can add interesting tidbits along the way. It's also good to note that tour companies can offer more access to some National Historic Sites than visitors have on their own, such as the inside of Dredge #4. Still, for those who prefer to grab a map and head out, there are endless spots to explore.