Activities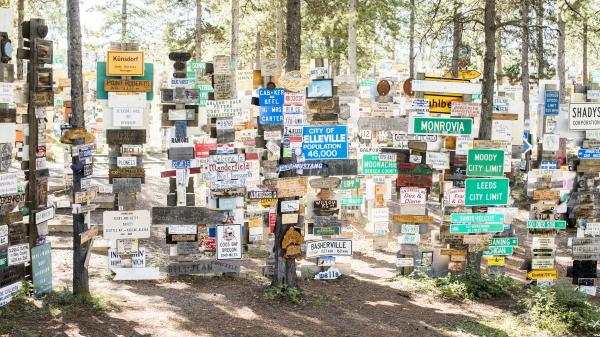 A gateway or satisfying finish to a Yukon art adventure
Tucked into the southeast corner of Yukon, Watson Lake is either the gateway to the territory from the Stewart-Cassiar and Alaska highways or a satisfying finish to a Yukon art adventure. The community and surrounding region are the Traditional Territory of the Liard First Nation. Wherever the road takes you next, a stop in Watson Lake will refresh you.
After all that driving, visit the Signpost Forest. Designated as a Yukon Historic Site, the forest was created in 1942 when a homesick U.S. soldier erected a marker showing the distance to his hometown. You're welcome to bring your own sign to the Visitor Information Centre (VIC), and they will add it to the 85,000 signs now displayed in the forest.
Sparkling lakes are a prominent feature in the boreal forest around Watson Lake, inspiring detailed drawings, meditative photography or creations made from local driftwood.
On Saturdays, find local artists selling jewelry, cards, drawings and other wares at the farmers' market. The Watson Lake Chamber of Commerce hosts an arts and crafts display every year. Ask at the VIC for details of this year's event. Then wind down with a stroll following the hand-drawn sketches in the historic sites walking tour guide available at the VIC.
Even during the long summer days, you can enjoy the winter season's phenomenal aurora borealis. Catch a panoramic video of the dancing lights at the Northern Lights Centre's high-tech, domed theatre and let the colours amaze you.
And if you're in need of some souvenir inspiration, browse through listings of over 120 featured artists.