Activities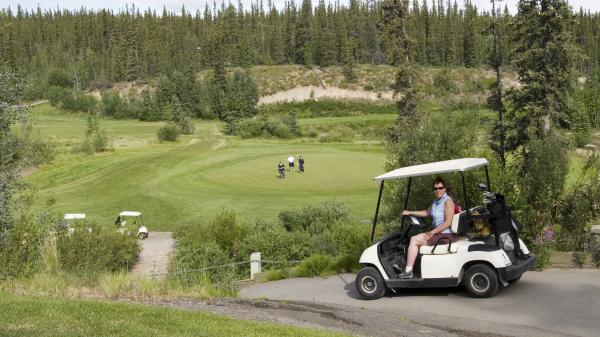 Birdies, eagles and caribou.
Not surprisingly, you won't find private clubs, fairways lined with homes and spectators who soft clap here in the Yukon. Instead, discover epic courses that combine warm local hospitality, beautiful northern panoramas, and even the chance to spot some wildlife.
Built near natural, wooded areas, you're much more likely to see a four-legged local on these courses than you are to hit a hole-in-one—unless you've got a green jacket. It may not be in the official PGA rulebook, but course protocol is to pause and let any wildlife play through.
Various tournaments take place over the golf season, but the annual Midnight Sun Golf Tournament in Dawson City is special. Scheduled on or near the summer solstice, this event invites you to tee off at midnight in a celebration of the longest day of the year. Play through the night, and be sure to time stamp your selfie.
In Whitehorse, you can play the beautiful nine holes at Meadow Lakes Golf Club and a full 18 holes at Mountain View Golf Course. Whitehorse, Dawson City and Watson Lake golf courses all rent clubs, and offer drink and food options. Faro's unique 9 hole course meanders throughout the picturesque community.
Annie Lake Wilderness Golf Course is in a category all its own. This rough track was carved out of the bush during WWII by US army men who were itching to play a round. Today there are still no carts, no clubhouse, and no guarantee that your ball won't disappear down a gopher hole, but this is a truly unique Yukon experience. Bring a snack, drop your money in the box and play as long as you like.
All Yukon courses are public, and the gorgeous midnight sun allows for late tee times. Come golf here and enjoy the drive.