Activities
Iconic Drives: Golden Circle Route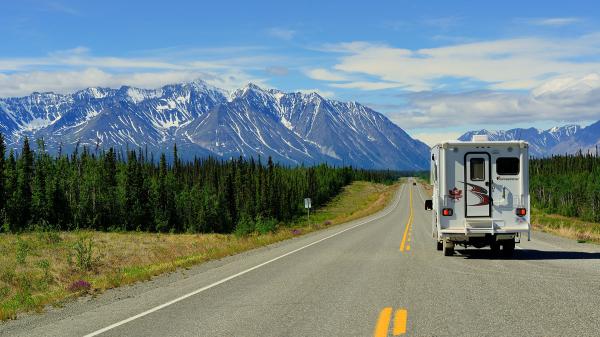 Take the scenic route to our neighbours
This unforgettable route includes the South Klondike and Haines Highways, as well as a short voyage on the Alaska Marine Highway ferry. Explore Whitehorse, Carcross, Haines Junction and the Alaskan coastal towns of Skagway and Haines.
Drive past some of the most photographed places in the Yukon including Emerald, Bennett and Kathleen Lakes. Keep your camera ready as you watch for wildlife like black bears feeding near the road. On the South Klondike Highway, you may spot the picturesque White Pass & Yukon Route train on the mountainside across the gorge. The Haines Highway travels alongside a UNESCO World Heritage Site made up of four protected parks. Here, the stunning Saint Elias Mountains look beautiful, even when viewed through your windshield, but are definitely worth pulling over for.
The scenery would be enough, but there's also vibrant culture and history to explore. Pause at the totem poles in Carcross, and visit the carving shed where masks and other art are crafted by hand. Learn more about First Nations history and traditions at the Da Kų and Kwanlin Dün Cultural Centres in Haines Junction and Whitehorse. The Da Kų Culture Centre is also home to the Kluane National Park and Reserve Visitor Centre where travellers can see the peaks and icefields of the Saint Elias mountain range on a 3D topographical map.
The Golden Circle Route includes touring the gold rush boom town of Skagway and the charming fishing community of Haines. Enjoy the scenic one-hour ferry ride connecting these two small Alaskan towns. Note that there is a Canada-US border crossing as you go into Alaska and another as you return to the Yukon. Enjoyable experiences on both sides of the border are just part of what makes this unique road trip so memorable.