Activities
Wilderness Parks - Northern & Arctic Yukon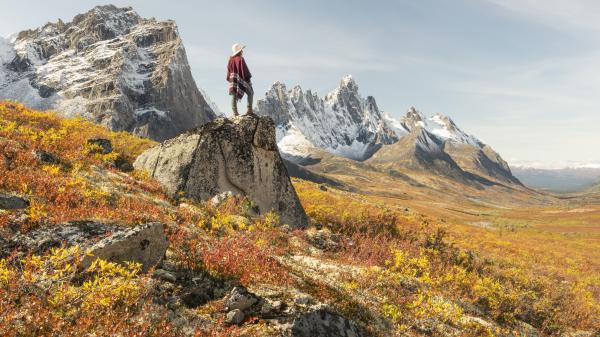 A land like no other
The parks of the Arctic and Northern Yukon region are treasured places that provide travellers the chance to experience breathtaking wilderness.
Of this region's five parks, Tombstone Territorial Park is the only one accessible by road. Stop in at the Interpretive Centre to view exhibits, get some tips, and enjoy some Mountain Wild Tea as you go over maps and handy brochures. Then step out and explore the stunning landscape. See towering peaks, azure-blue lakes and sprawling valleys covered in fascinating plants and lichens. The abundant wildlife includes grizzlies, moose, Dall sheep, caribou and wolves, as well as smaller animals like pikas, marmots, foxes, and numerous Arctic bird species.
This region's other parks are farther north and even more remote, with few or no facilities or services. These extraordinary places offer extremely rewarding experiences for those wilderness adventurers who are willing to make the trip.
Ni'iinlii Njik-Fishing Branch Territorial Park and Habitat Protection Area is a unique ecosystem with remarkable limestone caves, year-round open water and unparalleled opportunities to view grizzlies fishing for salmon. To protect the bears and the habitat, access to this park is limited and tightly managed.
In the summer, the midnight sun doesn't set in Vuntut and Ivvavik National Parks. Herschel Island-Qikiqtaruk Territorial Park also enjoys 24 hours of daylight, offering endless hours to explore.
Ride Canada's oldest river, The Firth, to the Beaufort Sea—a true trip of a lifetime. Experience landscapes that are home to moose, caribou, wolves, grizzlies and black bears, and visit wetlands that are habitat to an abundance of migratory waterfowl. With no roads into these parks, visitors access them by chartered plane—an exceptional opportunity to get a bird's eye view of these amazing areas.