Activities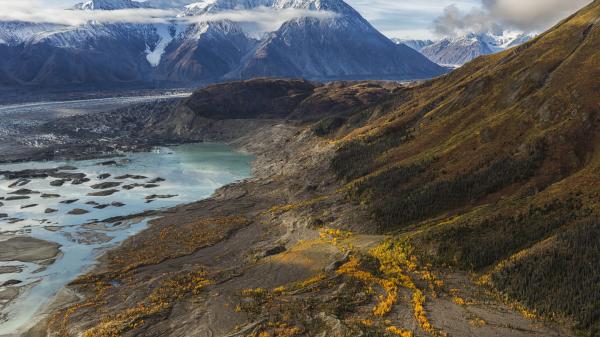 Inspiring surroundings
The beauty and the wonder of the St. Elias Mountains have inspired scientists, artists and writers from around the world.
You're in for a treat in Haines Junction, for the community has an inspiring commitment to creativity. Look for sculptures along the main streets. If you love watercolours, many painters here create light-infused landscapes. Nearby, the St. Elias Convention Centre showcases works from the Haines Junction Permanent Art Collection.
The Parks Canada Kluane National Park and Reserve Visitor Centre and the Haines Junction Visitor Information Centre (VIC) share the same building as the Da Kų Cultural Centre. You can view traditional and modern works by Champagne and Aishihik First Nations artists and around the territory, take in the interactive displays and plan an exciting day of hiking, wildlife viewing and art seeking without having to move your vehicle.
Destruction Bay, is a tiny but welcoming community is worth a stop for photography, lunch and browsing the local artwork, including beadwork and jewelry. On the way to Burwash Landing the visual feast continues with pristine views of Kluane Lake. Originally a summer camp for Southern Tutchone, it is the main settlement of the Kluane First Nation. The gift shop at the Kluane Museum of Natural History features local handmade crafts. Yukon singer Diyet grew up here and her CD could be the perfect soundtrack for the drive to your next stop, Beaver Creek.
Beaver Creek and the surrounding area are the home of the White River First Nation. The friendly VIC staff here, in Canada's most westerly community, can guide you to nearby points of interest or show you displays of local sewing and beadwork.
And if you're in need of some souvenir inspiration, browse through listings of over 120 featured artists.