Activities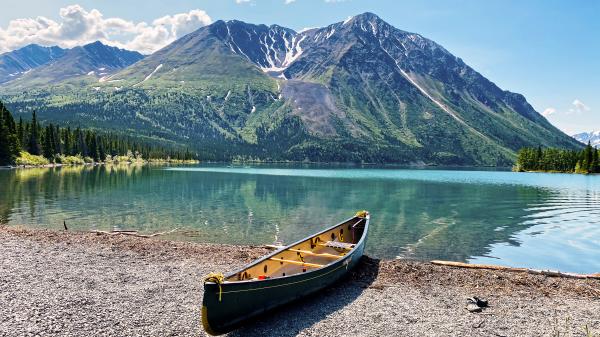 Hiking a treasured paradise
Whether you have a couple hours or several days, the Kluane Region delivers unforgettable hikes. Trek up the Thechàl Dhâl Ridge to spot herds of beautiful Dall Sheep, or take on the Kluane Plateau route for incredible breathtaking views of the lake and surrounding mountains. Other routes include hiking deep into pristine backcountry all the way to the toe of the stunning Donjek Glacier.
While many of the challenging routes require fitness and experience, there are many shorter trails that are marked and easy to follow. Amble along the short Spruce Beetle loop, past interesting interpretive panels describing this insect's role in the forest's life cycle. Another easy-going hike is the Dezadeash River Trail through a variety of habitats where sharp eyes will spot signs of various wildlife like birds, moose and beavers.
The region also has many routes that are longer than a couple hours, but can be done in a day. King's Throne is a challenging yet rewarding day hike that starts at beautiful Kathleen Lake and leads up to a cirque that offers amazing views of the surrounding landscape. Thunderegg Creek is a much shorter route, but also serves up amazing vistas as well as the bonus of seeing the fascinating thunderegg rocks.
With dozens of routes of varying lengths and difficulty, Kluane has hiking for almost everyone. But just remember that this is grizzly country, so don't forget to use your bear smarts. It's also important to note that Parks Canada permits are needed for overnight trips into Kluane National Park and Reserve. Check with Parks Canada for other important information, like details on mandatory bear-proof canisters. Planning is necessary when hiking deep into this extraordinary protected wilderness, but it's well worth it for the memories and spectacular photos that'll surely light up your social feed.
For more information on hiking in Kluane National Park and Reserve, visit yukonhiking.ca and Parks Canada.