Activities
First Nations Culture - Klondike Region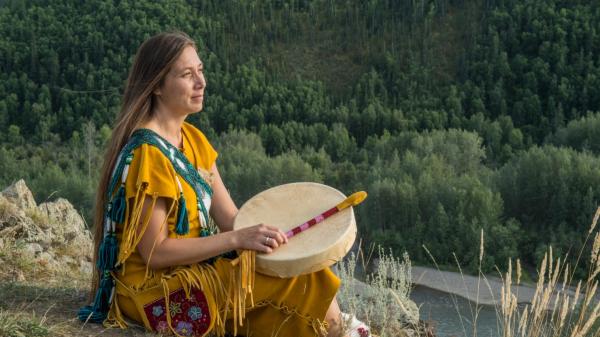 Stories as old as time
The original story of the Klondike is preserved as oral history that has been passed down for countless centuries. The heritage of the Tr'ondëk Hwëch'in First Nation continues to be a meaningful part of the Klondike region's fabric. You'll see their artwork, hear their language and have opportunities to experience this vibrant culture. First Nations cultural centres are a chance to explore further, learn the early stories and see how traditions are preserved and woven into the way of life today.
On the way to Dawson City, spend some time at the Tagé Cho Hudän Interpretive Centre just across the bridge from the small community of Carmacks. Interesting exhibits include a dugout canoe, a dog pack made of salmon skin and a collection of ancient tools of stone and bone. Hear fascinating facts about the Northern Tutchone culture, and admire the skill and fine craftsmanship from the beadwork and traditional clothing.
Continue along the highway to the Big Jonathan House in Pelly Crossing. See a baby bunting bag, birch bark baskets and a model of a fish trap. Visitors can watch engaging videos, listen to audio of elders sharing traditional stories and learn a few words of the Northern Tutchone language.
Once in Dawson City, visit the Dänojà Zho Cultural Centre on the shore of the Yukon River for a fascinating look into the heritage of the Tr'ondëk Hwëch'in First Nation. The Hammerstone Gallery offers the Tr'ondëk Hwëch'in perspective on the gold rush that changed the region forever. Interesting exhibits include beautiful beadwork, archeological artifacts and life-sized photographs. Take in some cultural entertainment through drumming, dancing and other artistic performances, and join a guided walk on the riverbank.
First Nation tour companies offer the chance to explore further with authentic experiences like river trips between Carmacks and Dawson City and past the culturally significant site of Moosehide Village. Keep an eye out for wildlife from the water, see a fish wheel in action, visit a traditional fish camp and stop by the Fort Selkirk Historic Site—a truly unforgettable experience.