Activities
First Nations Culture - Whitehorse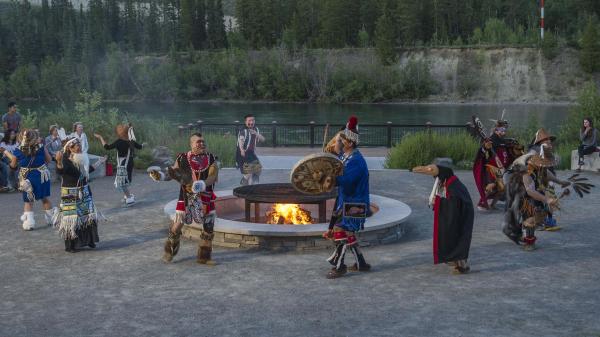 Deep roots to discover
An exploration into the Whitehorse area's First Nations heritage starts with a visit to the Kwanlin Dün Cultural Centre. This striking cedar-clad building sits on the shores of the Yukon River, the traditional home of the Kwanlin Dün First Nation. The centre is beautiful to admire from the outside, but be sure to go in and see the exhibits, meet the welcoming staff and take a guided tour. Nearby, the MacBride Museum also has a permanent exhibit on First Nations beadwork, tools and artifacts from other regions of the Yukon.
Just up the street from the museum, you can't miss the hand-carved healing totem topped with its striking Raven. A few minutes along the Millennium Trail to Rotary Peace Park takes you to the bust of beloved elder, Angela Sidney, where a plaque explains her work preserving her people's language, stories and other traditions. Take a stroll around Whitehorse and you'll find large murals and other artwork illustrating meaningful First Nations legends throughout the city.
Traditional crafts along with modern pieces by First Nations artists are also featured in many of the local galleries and gift shops, like the Northern Cultural Expressions Society's small gallery. Chat with one of the artists about the inspiration behind the work, choose a displayed piece to purchase or ask about a one-of-a-kind commission.
First Nations cultures run throughout modern Whitehorse life every day, but catching one of the colourful events is an extra special experience. Join in the celebrations during National Indigenous Peoples Day, or the multi-day Adäka Cultural Festival on the Whitehorse waterfront. Visitors are welcome to be a part of the excitement and energy of this world-class festival. Take in the many captivating live performances, and join some of the dozens of inspiring workshops. These interactive workshops are a chance to try your hand at ancient skills like moose hair tufting, beading and drum making.
Farther up the river, visitors can follow the trail from picturesque Miles Canyon to Canyon City. Thousands of years before it became a stop for gold seekers, this site was a First Nations fish camp. Before heading to Miles Canyon, stop at the Visitor Information Centre to look into some of the guided tours highlighting fascinating facts about this area's natural history and cultural significance.
Whether it's walking ancient paths along the river or watching dancers step to the rhythm of a drum, experiencing First Nation culture can be moving and memorable.