From mesmerizing skies to deep cultural roots, the Yukon is an inspiring place to be. Explore Whitehorse's thriving arts and entertainment scene, and discover it for yourself.
Public buildings house permanent installations, and outdoor art is prominently displayed in can't-miss locations. Grab the Whitehorse Art Walk map at the Visitor Information Centre, and stick in your earbuds for the accompanying audio. Learn the stories behind sculptures, murals, stained glass and a variety of other works inspired by nature, First Nations legends, gold rush characters and reflections on modern life in the North.
Along with public art, numerous galleries proudly display fine pieces by local artisans. If you're looking for some Yukon-made artwork as a souvenir, you'll have no problem finding something from the many gift shops in town. Browse carvings, jewellery, pottery, paintings, beading, photography, textiles and more, and bring a piece of the Yukon home with you. Art is also available at the weekly outdoor community market, in artist's studios and in the many coffee shops.
Whitehorse's music scene is hopping too, and live music pops up in restaurants, bars, coffee shops and outdoor spaces. Tap your toe or get up and dance at the weekday Arts In The Park outdoor concert series. Catch a concert or live theatre at the Yukon Arts Centre or at the Old Fire Hall heritage building on the banks of the Yukon River.
Looking to scratch your own artistic itch? Try your hand at glass blowing on the Whitehorse waterfront, join a songwriting retreat, or go with a tour operator on a photography weekend immersed in pristine nature. Whether you make your own, or find a one-of-a-kind treasure in a shop or gallery, you're sure to leave with an inspired piece of the Yukon.
Authentically Yukon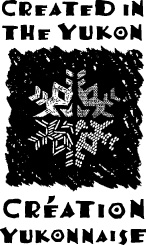 As you shop, keep your eyes peeled for the "Created in the Yukon" symbol. It's a mark of authenticity that's placed on items created by Yukon artists and artisans.
And if you're in need of some souvenir inspiration, browse through collections of over 150 featured artists. It's like a gallery crawl you can do from the comfort of your couch.
Regions:

Whitehorse Region

Communities:

Whitehorse

Themes:

Heritage & Culture

Categories:

Heritage & Culture, Arts