Activities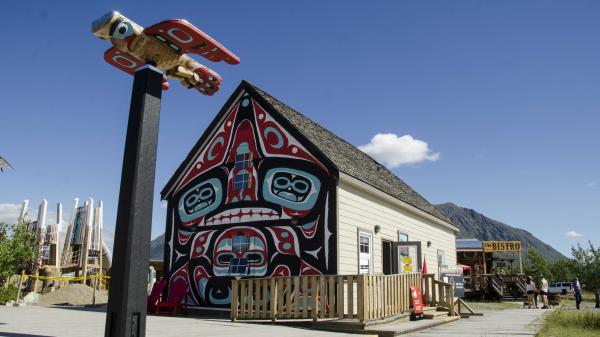 Art-quest trail
At every stop in the Southern Lakes, travellers can look for artwork that captures their own experience of exploration. Exploring the Southern Lakes communities can take the form of a day-long drive or a week of road-trip therapy, depending on how many art venues and photo-ops catch your eye.
Mount Lorne tempts visitors with its stunning views of the Wheaton Valley. Daily tasks for artists include chopping firewood as much as weaving or blending paint colours. Watch for creative workshops in drawing and felting, or dances and music nights at the community centre.
Carcross — originally known as Caribou Crossing — comes into view at the end of Bennett Lake. The area is part of the Traditional Territory of the Carcross/Tagish First Nation and was a staging ground for gold seekers headed to the Klondike. Murals and totem poles present a lively engagement with traditional Tlingit imagery at Carcross Commons. Find art shops, cafés, a carving studio and impromptu performances.
Further east at Crag Lake, artists living in cabins along the shore pursue intensive art practices with media such as metalwork. Well-known Yukon painter Ted Harrison donated his log cabin and property on Crag Lake for an artist's retreat where Canadian and international visual artists create and share their work.
When you are ready for breathtaking mountain views cruise down to Atlin, BC. The glaciers and mountains here are as spectacular as the Rockies. Embrace the immense views and the intimate details of the area, known affectionately as "Little Switzerland" and home to the Taku River Tlingit First Nation. Atlin Lake and the dramatic Coastal Mountains are favourite subjects of painters and photographers. The landscape's flowing lines resonate gracefully in quilts, fibre arts, jewelry and carving. Colourful buildings make a funky backdrop for community life, such as the town's annual Atlin Arts and Music Festival in July.
Teslin, home of the Inland Tlingit, is a place where carving and beading are time-honoured traditions and artists have deep bonds with ancestry and the land which are reflected in carving, drumming, storytelling and dance. Teslin boasts many Tlingit master sewers and carvers whose work inspires much of the traditional carving and sewing throughout Yukon. The Hà Kus Teyea Celebration is a biennial event where all are welcome to celebrate Tlingit culture including dance, music, food, art and cultural demonstrations.
And if you're in need of some souvenir inspiration, browse through listings of over 120 featured artists.