Activities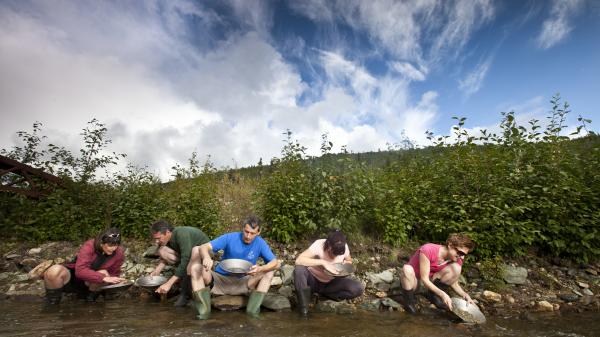 A wealth of ways to explore gold rush history
On August 16, 1896, Shaaw Tláa (Kate Carmack), Keish (Skookum Jim Mason) and Káa Goox (Dawson Charlie) of the Carcross/Tagish First Nation—along with Kate's husband, George Carmack—discovered gold in what is now known as Bonanza Creek, located near Dawson City. The discovery spurred the legendary Klondike Gold Rush (1896-1899), a virtual stampede of more than 100,000 prospectors from around the world, and sparked the beginning of a major change in the Yukon. There's still gold here, but today it's the period's captivating history that draws visitors to the territory.
You'll find so many ways to experience our gold rush heritage. The world-renowned Chilkoot Trail hike traces the prospectors' path from Skagway, Alaska, to Bennett Lake in the Yukon. Across the ravine, the White Pass and Yukon Route railway chugs over the pass. In between the trail and the tracks, a scenic highway winds through the coastal mountains to the charming village of Carcross.
Take the drive up to Dawson City, and along the way visit museums, cultural centres and historic sites with fascinating gold rush information and exhibits. Explore preserved paddlewheelers on shore or canoe some, or all, of the river route the gold seekers took from Bennett Lake to the Klondike. There are touches of the gold rush in everything from jewellery to coffee beans to outdoor art.
Tour heritage buildings, stroll boardwalks and get to know larger-than-life gold rush characters as they share their gripping stories about the momentous event that changed the Yukon forever.
It's important to note that the global influx of gold-seekers deeply impacted the land and the local First Nations people, who had been there for thousands of years. This time in history was not always positive and the impacts of development and colonialism are still felt today. Despite the mixed experiences, the gold rush happened and made a dramatic contribution to shaping the culture and society of the Yukon today.