Activities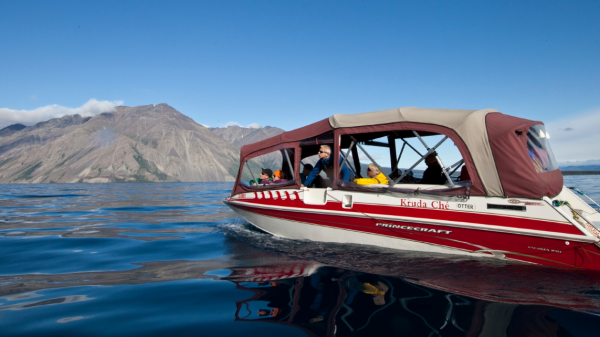 Adventure by the boatload
There are numerous options for getting out on the water near Whitehorse. The Yukon River flows right through the city and leads downriver to Lake Laberge, the setting for Robert Service's famous poem, The Cremation of Sam McGee. You could put in at Schwatka Lake, less than 10 minutes' drive from downtown, and motor upriver between the basaltic walls of Miles Canyon. During the gold rush, the canyon churned with whitewater and was a significant obstacle for the goldseekers to navigate. Now tamed by a hydro dam, boating through it is far safer but still a thrill.
To make your own waves, put in at one of the scenic spots of the Southern Lakes Region. Local favourites, Marsh and Tagish Lake, are big and spacious with lots of room for everyone to open up the motor. Tarfu and Snafu Lake are much smaller but still offer up big, beautiful views, along with a few tiny islands and lots of little bays to explore.
While the Southern Lakes Region talks it up right in the name, there are fantastic lakes throughout the territory. In some cases, they are in relatively close vicinity to each other, making it easy to spend a few days in an area and travel to a different lake each day. Tatchun, Frenchman and Little Salmon Lake on the North Klondike Highway are favourites of locals and visitors alike.
It's impossible to miss the beautiful lakes and rivers all along the Alaska Highway. The Liard River near Watson Lake is fun for experienced jet boaters. Past Whitehorse, hot spots include picturesque Pine Lake and Kluane National Park's Kathleen Lake.
For an unforgettable multi-day excursion, tour operators offer wilderness river voyages all the way to Dawson City, through legendary waterways and past historic sites. Shorter river trips from Dawson City include the chance to visit a working First Nations fish camp.
Being out on the water is a great chance to watch the shoreline for signs of wildlife like moose. Despite their gangly appearance, moose are great swimmers and love to munch the juicy vegetation that grows near and in water. You may also spot a beaver lodge, see loons or other waterfowl. Wherever you enjoy boating in the Yukon, you'll be surrounded by postcard scenery.
Boat rentals are available, but you must hold a Pleasure Craft Operator Competency card with you to operate a motorboat in the Yukon. Going with a tour operator means you have the benefit of being with someone experienced on that body of water, who can point out wildlife or share the history and legends of the area. It also lets you kick back and soak up the scenery with your own captain at the controls.