Activities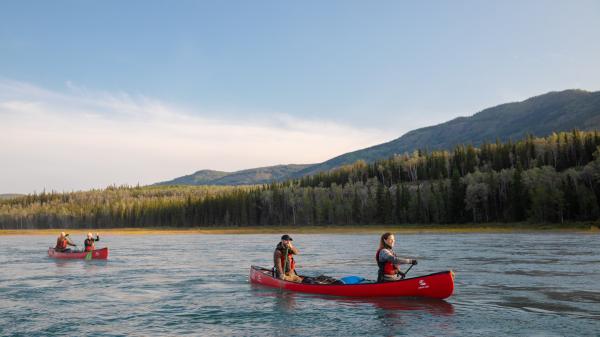 A paddler's playground
Exploring Yukon from the water is an unbeatable way to experience our wilderness, and offers opportunities for beginners and pros alike. Visitors can canoe an easy-going river with views of majestic mountains, or kayak thrilling white water canyons. Spend a peaceful evening on a picturesque lake with a fishing line in the water, or take a multi-day adventure down one of the four Canadian Heritage Rivers that flow through the Yukon.
Here, you don't have to go far for fantastic paddling. The Yukon River runs right through the capital city of Whitehorse, and many other communities sit along rivers or close to lakes. Float planes provide access to the more remote areas, with the bonus of flying over some of the most beautiful wilderness in the world.
Along with unforgettable outdoor adventure, Yukon waters are also rich in history and culture. Follow the gold seekers' route on the mighty Yukon River. Drift past centuries-old sites of First Nation fish camps and meeting places. Come paddle lakes that have inspired poems and rivers that have invoked legends.
The Yukon offers a wide variety of options for every skill level and paddling preference. But when it comes to spectacular scenery and unique wildlife viewing, for that, you don't even have to choose.