Activities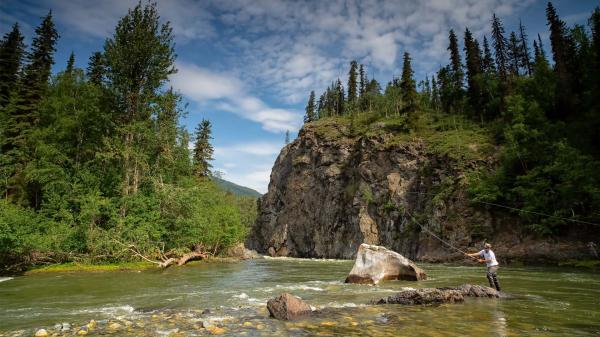 Catch of a lifetime
Almost every Yukon community is close to a body of water, so you won't have to go far to find somewhere to cast your line. Lakes, rivers and streams are home to numerous species including Arctic grayling, lake trout, rainbow trout, northern pike, white fish, burbot, dolly varden, inconnu and salmon. About the only species you won't find is the Ogopogo—you'd have to go to the Okanagan for that (but obviously not until you visit the Yukon first).
In most places you can fish right from shore. Take a short stroll from your campsite, or maybe squeeze a couple hours in between sightseeing. A few casts before dinner could add fresh fish to the menu—a delicious lake-to-plate take on farm-to-table dining. For a full day, head out in a boat and enjoy the serenity of being on the water, or take a float plane into pristine wilderness for a true fishing trip of a lifetime.
With warm days and extra-long hours of daylight, summer is a popular time for fishing. Coming when the lakes are frozen over? No problem. Ice fishing is exceptional here too. Discover Yukon fishing in any season, and you'll be hooked (pun intended).
Yukon fishing licenses are available online from some tour operators and at various places throughout the territory. Communities outside of Whitehorse have fewer spots to get your fishing license, so be sure to plan ahead before trying your luck in the waters near campsites or the smaller communities. Please note that Kluane and Ivaavik National Parks require a separate Parks Canada fishing license.