Activities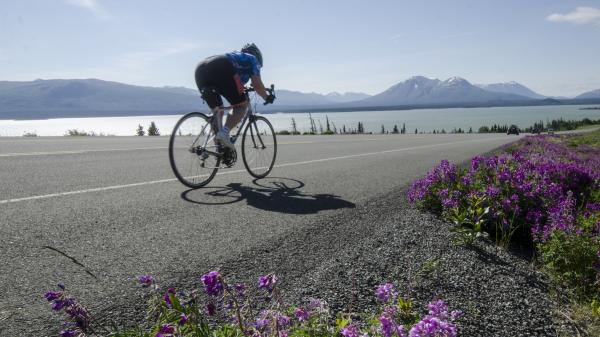 No windshield. Plenty of view.
For recreational and long-distance cyclists, Yukon routes vary from relaxing sightseeing rides to challenging brag-worthy summits.
The Millennium Trail in Whitehorse is a multi-use path that runs along the Yukon River and crosses two bridges to form a loop. It connects to the downtown Waterfront Trail with access to attractions, shopping and lots of places to lock up and grab a snack. These popular paved trails are also enjoyed by walkers, runners and sightseers, so it's not the spot for cyclists to reach top speed—unless your top speed is equivalent to a toddler in a wagon—but it's perfect for a leisurely ride with a nice mix of nature and city.
For faster speeds and more miles logged, hit the highways. In Whitehorse, a scenic loop takes you out of the river valley and up to a stretch of the Alaska Highway. Enjoy rewarding mountain views as you whiz down Robert Service Way or Two Mile Hill back into downtown.
Those looking for a longer ride will discover that the Yukon delivers one-of-a-kind routes through beautiful wilderness. The Southern Lakes loop leads to beaches and to Carcross' historic and cultural attractions. Head the opposite direction toward Haines Junction and become a part of the panoramic scenery beneath the Saint Elias Mountain Range. Or satisfy your sense of adventure with a multi-day ride to Dawson City, roughly following the river route of the Klondike gold seekers.
For a ride through expansive wilderness landscape paired with the camaraderie of cycling with others, join the Kluane Chilkat International Bike Relay—238 kilometres between Haines Junction and Haines, Alaska. Relay teams, solo riders and support vehicles travel from fresh mountain air, across an international border, and down to the salt air at sea level.
The Yukon's long stretches of scenic highways appeal to distance riders who are prepared to make repairs roadside, encounter wildlife, and in some cases, camp overnight. Yukon highways are predominantly two lanes without separated bike lanes. Cyclists ride on the shoulder of the road and must ensure they are equipped to be visible. Smart itineraries allow extra time to stop for a breathtaking photo of the midnight sun or to brake for a brown bear ambling across the road.
With the right planning, any Yukon highway can be cycled in the summer. Major routes are well maintained, but for a more off-the-beaten-track trip like the Dempster Highway, check in with a visitor information centre or chat with bike shop staff to get a good picture of what's in store. If it's a good fit, go forth and conquer!