Activities
Family-friendly hikes in the Yukon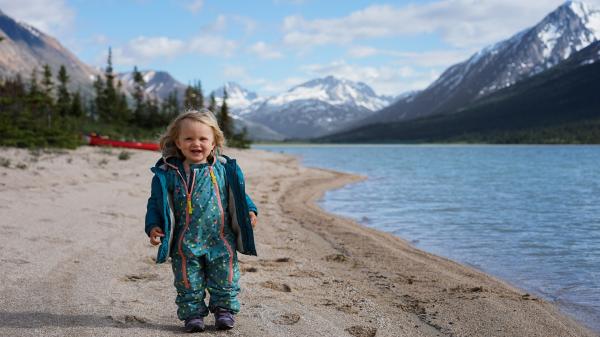 Family bonding time gone wild
If it's trail tips you're looking for, you've come to the right place. Read on to find out where to go, what to do, how to keep the kids motivated and more.
1
Whether your little one is a trail master or a total beginner, we've got you covered. And with more hours of daylight (thanks, midnight sun!) than you can shake a muddy, moss-covered stick at, summer's the time to plan that perfect family hike. Here are a few of our favorites: 
Kluane National Park and Reserve - Home to giant glaciers, wild rivers and an abundance of wildlife. Three relatively easy, kid-friendly hikes include Spruce Beetle Trail, Soldier's Summit, and the Dezadeash River Trail.
Whitehorse Millennium Trail - Ideal for kids of all ages, this flat 5km paved trail follows the path of the Yukon River. Be sure to check out the historic S.S. Klondike sternwheeler and the Whitehorse Fishladder and Hatchery while you're there.
St. Elias Lake - Perfect for the backcountry beginner, this 8km trail is nestled between mountains and culminates at a campsite on the spectacular, glacier-fed St. Elias Lake.
Miles Canyon Guided Nature Hike - Learn about the Gold Rush, First Nations history, and more while you and your tots take in epic views of Miles Canyon during this free two-hour guided hike.
Carcross Desert Viewpoint - A short, easy hike overlooking the world's smallest desert. You may even catch a glimpse of a few adventurous Yukoners sandboarding on the dunes.
Thunderegg Creek - The promise of thundereggs is sure to make this hike a favorite among your little ones. This 14km trail features open views of the Alsek Valley and minimal elevation gain. 
Carmacks Ridge Trail - A popular 5.3km hike located in Carmacks, this trail comes complete with stunning views of the Nordenskiold River and photo opportunities galore.
Valerie Lake (Copper Trail) - A 14km forest walk overlooking several canyons and lakes, this scenic trail is ideal for kids with a little more endurance. We call it cardio with a view.
Sam McGee Trail - Featuring mining artifacts and remnants of a tramway built to service a silver mine, this trail is a winner for kids who like their hikes with a little history. 
Auriol Trail - In the mood for a multi-day hike? The relatively easy 15km Auriol Trail offers stunning views of the Auriol Mountain Range, and if you're lucky, maybe even a moose sighting or two. For overnight hikers, this scenic loop includes a few campsites at the halfway point for you to rest, recharge and ready yourself for more adventures on the trail. 
2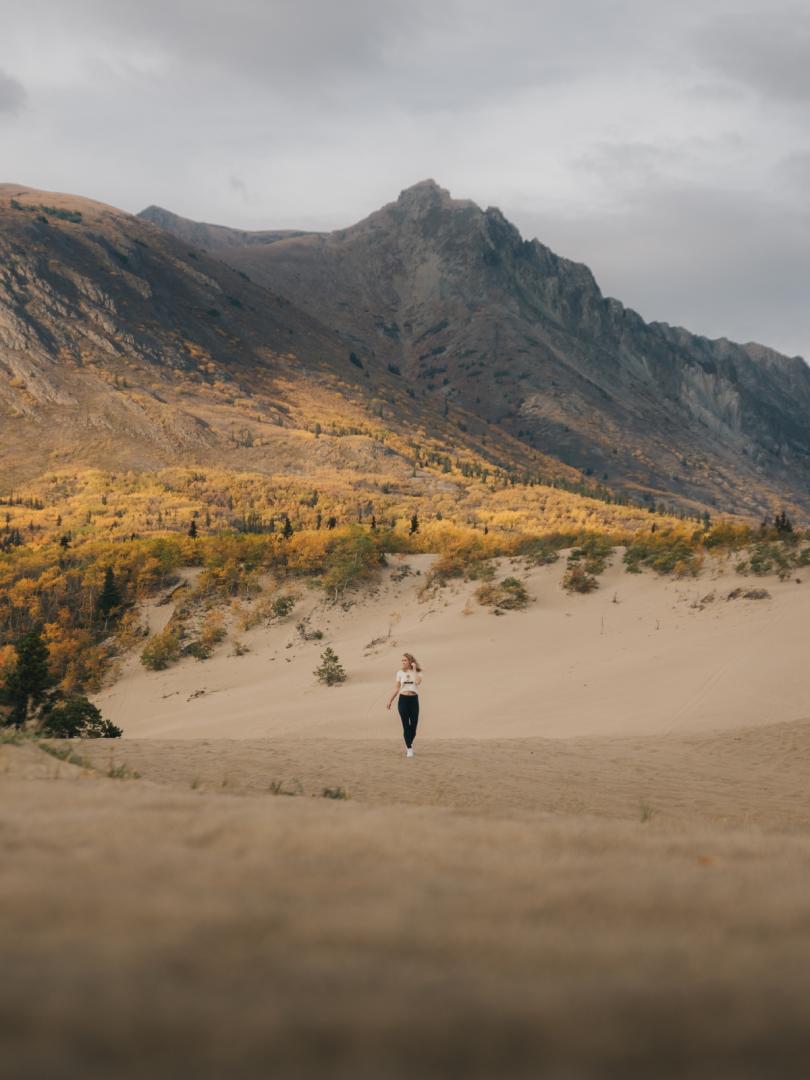 Be prepared. Take it from the Scouts—they would know. A safe, stress-free hike with your kids involves prep. Lots of it. Here are some things to know before you go: 
Let's start with picking the right trail for your family. Is it challenging enough for their age and fitness level? Does it include interesting natural features such as waterfalls, lakes, cool rocks or caves? Pick a hike with a worthy reward (like a river or a historical artifact) near the middle or at the end to keep your kids going. And once you've chosen your trail, be sure to familiarize yourself with it ahead of time. 
Next up: packing smart. Remember to pack light and to bring extra food, water and clothing. And don't forget your other essentials: a map, compass, lighter, first aid kit, multi-purpose tool, whistle, bear spray, sunscreen, bug repellent, garbage bag and hand sanitizer. Bonus items could include a retractable walking stick, a plastic magnifying glass and binoculars for your kids. 
As the Yukon is home to grizzlies and black bears, bear safety is an important part of any pre-hike checklist. A more exhaustive list can be found in the link below, but a few general bear safety tips include choosing trails with good visibility, carrying bear spray and knowing how to use it safely, learning how to identify bear habitats and signs of bear activity, and making lots of noise as you hike (karaoke in the woods, anyone?). 
Speaking of bears, overnight hikes require the use of a bear canister for anything that smells. Yes, that includes the delicious tuna sandwich you packed for lunch. Canisters can be rented at a Parks Canada Information Centre in Kluane and a few other locations. 
Check the weather and always leave a copy of your itinerary with a friend or family member as a safety precaution. 
Download or pick up brochures and workbooks on the interesting wildlife and cool plants of the Yukon. This will keep your kids occupied on the trail and put those binoculars to good use. You can even swing by a Parks Canada site ahead of time to pick up workbooks filled with trail activities for your kids. 
And finally, dress for (hiking) success. Skip cotton and opt for synthetics or wool, dress in layers, and invest in high quality hiking shoes. Just be sure to break them in before your hike—the blisters aren't worth it! 
3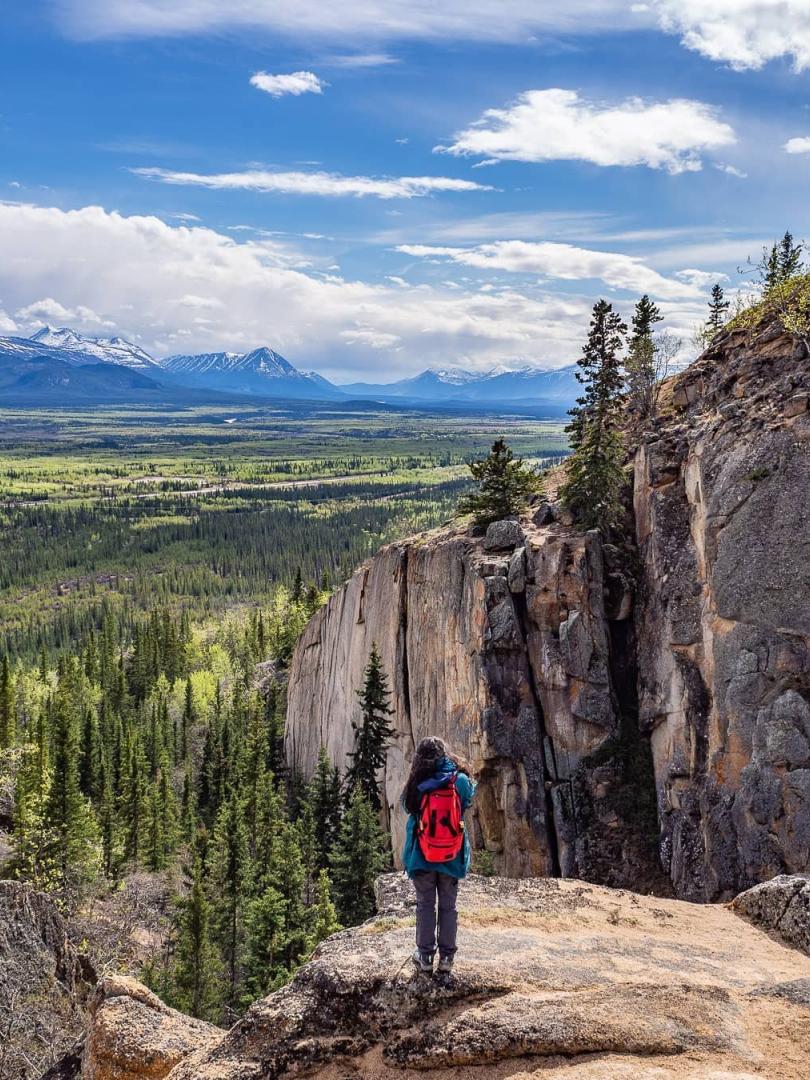 You packed smart. You dressed smart. You even learned to be bear smart. Now, all you have to do is take in the epic views as you hike to your destination. Here are a few tips to maximize family fun on the trail: 
Eat often and eat smart. Carry lots of water and snacks loaded with carbs and salt. Low-sugar, high energy snacks for your kids could include nuts, protein bars, fruit and sandwiches. That being said, the promise of candy or a handful of chocolate-covered almonds is a great way to keep your kids motivated on the hike. 
Take breaks! If your children are very young, give them a drink break every 15 minutes and a snack break every 30 minutes. If they're a little older, give them a 10-minute break once every hour. And make the most of your rest stops. Have your kids use their Parks Canada or Yukon brochures to identify and record all of the interesting plants, animals and insects that they come across. 
Pace yourself so that you are able to walk and talk (or sing an off-key duet with your little one!). Time your walk to ensure that your kids have enough stamina for the return trip. 
Give your kids a retractable hiking stick (or any ol' wooden stick you find on the trail) to save energy while climbing or walking up steep paths. Fair warning: be prepared to carry it for them if they get tired of lugging it around. 
Watch your children for signs of fatigue. They can be more prone to accidents and more difficult to manage when they are tired. Take a break or suggest turning around if they are too exhausted to carry on. 
Start good habits early—teach your little ones to leave nothing behind. Carry your trash out with you, and leave rocks, plants and other natural objects as you found them. Follow the link below to explore the 7 Leave No Trace principles.
4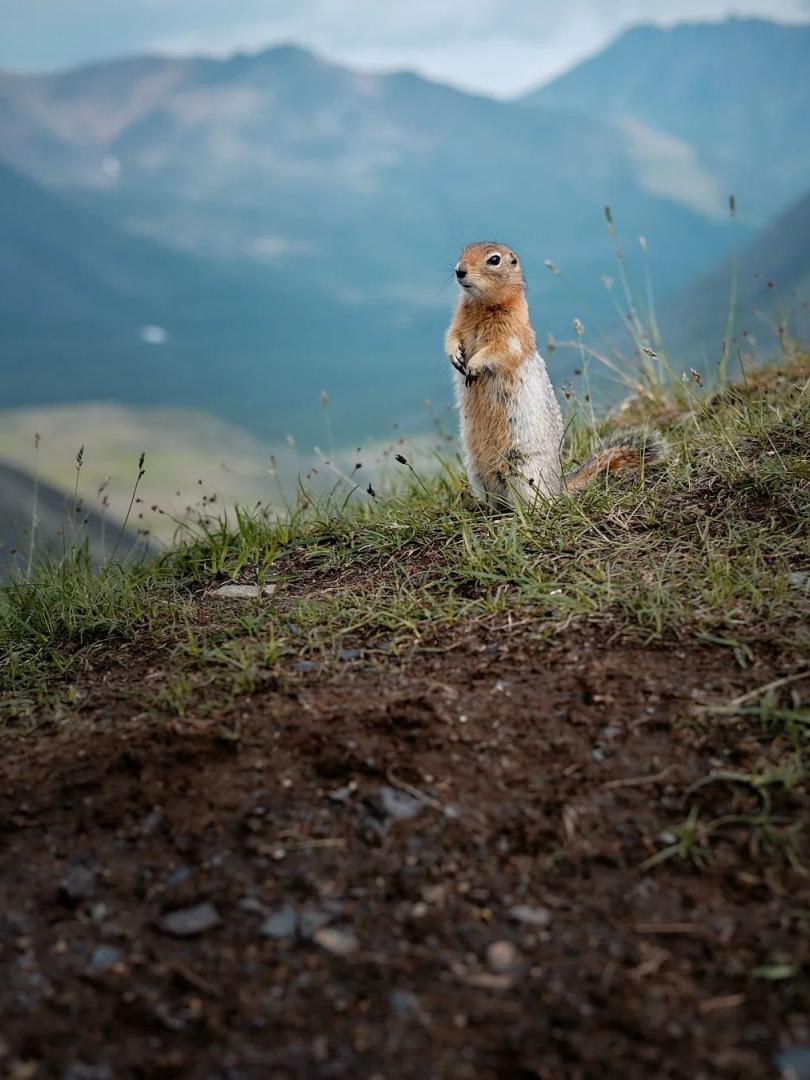 Let's face it: not every kid likes to hike. And even the ones who do may slow to a crawl from time to time. That's why we've compiled a list of fun games and activities to keep Junior motivated and moving: 
Fun trail games to play could include I Spy, a trail scavenger hunt, asking your kids to count to 100 and back in different languages, and giving them a theme or an object (like a purple flower) to make up songs about. Follow the link below for more fun ways to pass the time and watch as your previously "tired" tots transform into little balls of energy. 
Everyone likes to feel significant and kids are no different. Give them highly important roles such as Trail Leader, Head of Rock Spotting or Chief Animal Identifier to keep them focused and motivated. You never know, you may even need to promote your "Head of Rock Spotting" to "Rock Star" if they do a standout job. 
Put those Parks Canada workbooks and Yukon wildlife brochures to good use by having your kids identify and record all the interesting flora and fauna they find along the trail.
And if all else fails, there's always technology and toys. A music player with audiobooks loaded on to it or a small toy such as a fidget spinner can be handy for keeping boredom at bay.
5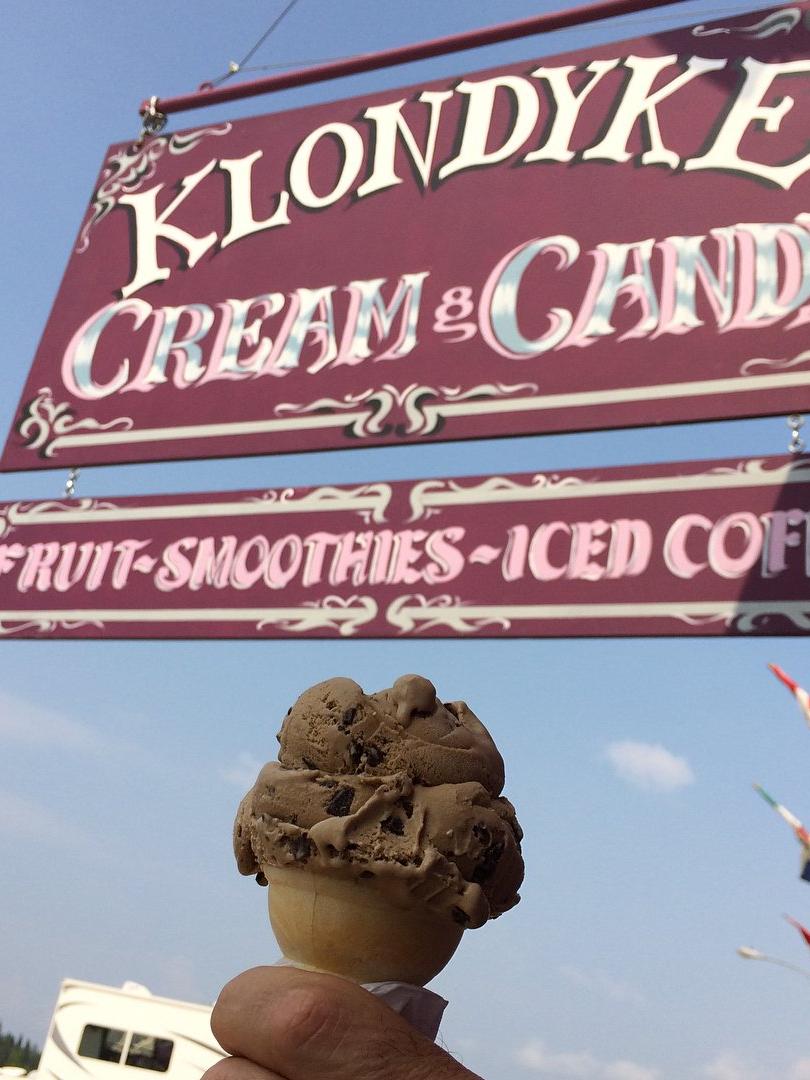 You made it. The hike is over, the boots are put away and the bags are unpacked. What now? Here are a few post-trail tips to keep the fun going. 
Recap! Ask your kids what they liked best about the hike, the funniest thing they saw and the craziest thing they discovered. Swap stories, look at photos and relive the best moments of your journey.
Reward your little explorers with a small but worthy treat (ice cream never fails).
Enlist their help in picking the next one. Provide your kids with a few options and have fun researching the next hike together. It'll give them, and you, a whole new adventure to enjoy.