Activities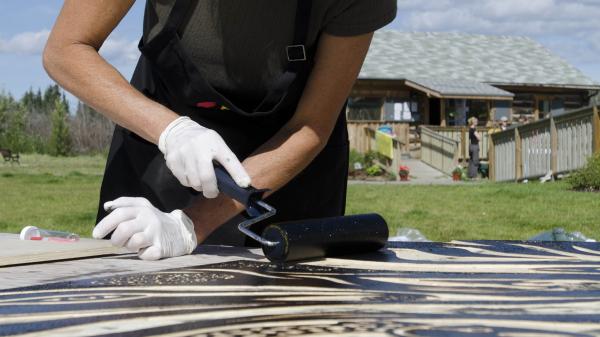 The essence of life in the North through art
Yukon artists express themselves in every conceivable medium and material. The essence of life in the North — colourful sunsets, ice fog and fireweed glowing in the midnight sun — is echoed in artworks.
Materials harvested from the land inform art-making as much as the landscape itself. Unfettered creativity is exciting to witness and Yukon has one of the highest proportions of artists in the country.
Regions all over Yukon offer rewarding art experiences. Watch artists work, attend a festival, admire public art, take a workshop or buy art. Experience the creative process first-hand at studios that welcome visitors. Plan your trip to coincide with arts activities and events such as the Adäka Cultural Festival in Whitehorse or the Riverside Arts Festival in Dawson.
Pack the car, grab your maps, buy a locally roasted coffee, and keep your camera handy. Allow for the unexpected. Be on the lookout for a pair of moccasins or a local music recording next to the baked goods in community stores. The Yukon is a place like no other. So when you shop, seek out businesses like no other. You won't regret it.
And if you're in need of some souvenir inspiration, browse through listings of over 120 featured artists.